How to Achieve True Happiness and Success
The Power Of Mindset:

14 Life-Changing Principles on How to Achieve True Success and Happiness
This book brings all the pieces of the puzzle together in 14 life-changing principles. Keep scrolling to learn more.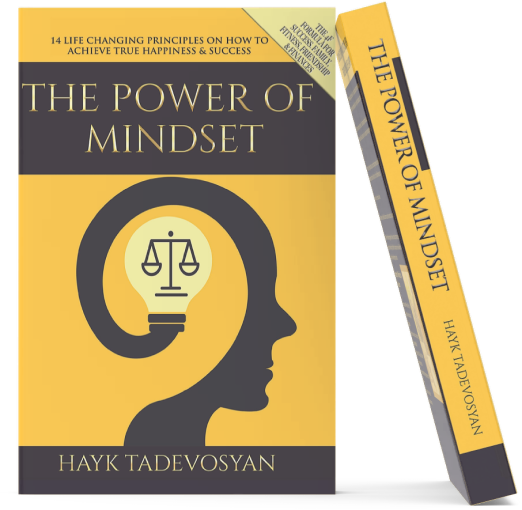 Do You Feel Empty and Lost, Even Though You Should Feel Happy?
It's a question many of us struggle with at some point in our lives. We've been taught to associate happiness and fulfillment with financial success and material things. In my experience, I've learned that focusing too heavily on financial success left me feeling lost, numb and unfulfilled. Sound familiar?
By the time I turned 30, I had achieved financial success and didn't have to worry about money. So, why did I still feel like a failure? Why did I feel so unfulfilled? It was then I realized I had to seek out happiness in a different way. This started my journey to self-discovery and eventually led me to develop my four factors to a life of true fulfillment and success — four factors that YOU can apply to your life as well.
Family, Friendship, Fitness and Finances.
These factors are my framework for living a happy life. After following them, I feel like the happiest man in the world! And you can too. The Power of Mindset breaks it all down for you with 14 easy principles. Keep scrolling to read more about how my book can help you lead a happier and healthier life.
Here's What Others Are Saying About The Power Of Mindset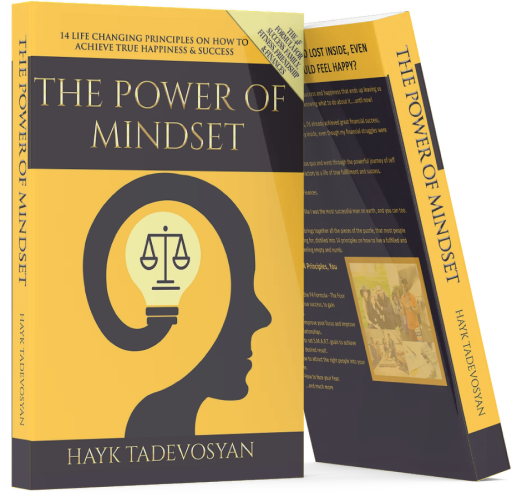 Order your
FREE copy

of

The Power of Mindset

now and get the complete Power of Mindset Course valued at

$195, FREE as a bonus!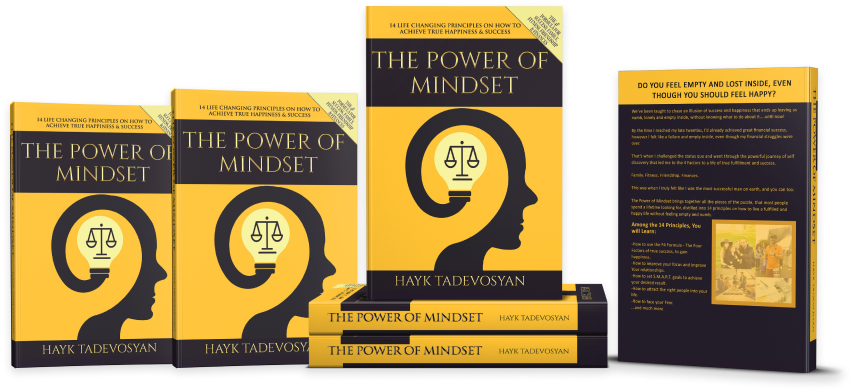 The Power of Mindset goes beyond the typical self-help book by offering you easy, reliable principles to follow in order to feel successful and fulfilled. If you feel like a failure or feel unfulfilled in your current situation, there's a way to turn that around.
The Power of Mindset provides you with the framework you need to feel happy, successful and fulfilled. It goes beyond the typical self-help book by offering you easy, reliable principles to apply to your own life.
Author Hayk Tadevosyan walks you through his humble beginnings in Armenia to his eventual gleaming success in America, modeling the true American Dream framework. He discusses how he went from feeling lost and unfulfilled to happy and successful.
Here's what you can expect from reading the book:
How To Use the F4 Formula - The Four Factors of True Success To Gain Happiness.
How To Improve Your Focus and Improve Your Relationships.
How To Set S.M.A.R.T. Goals to Achieve Your Desired Result.
How To Attract the Right People Into Your Life.
How To Face Your Fears.
...and much more.
Here's What You Get When You Order The Power of Mindset Today:

A FREE copy of the book, all you have to do is pay for shipping and handling.
The Full 14 Chapters of My Power of Mindset Video Course.
Ridiculus dictum et fusce pulvinar in.

($19.95 Value)

Hayk Tadevosyan | Copyright ©2020 | All Rights Reserved.